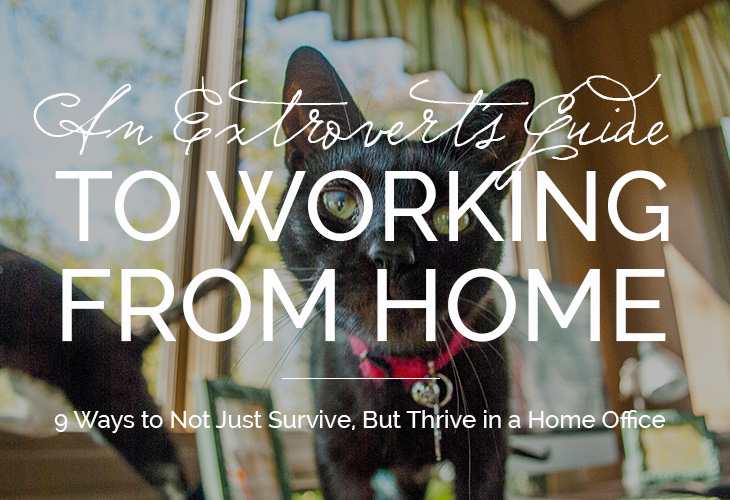 9 Ways to Not Just Survive,
But Thrive in a Home Office
Working from home as an extrovert isn't as scary as you think.
1. Take a deep breath
Really. It's going to be okay. Trust me—I'm about as extroverted as you can get. I get it. Alone time scares me. To me, silence can be maddening. I crave people time.
I was so afraid I was going to be lonely. My first day working from home was terrifying. I started to think about all of the things that I would "never" have again—the chit-chat with my deskmates, sneaking out of the office for walks with my favorite co-workers, chatting it up during my lunch break… basically, talking with people. There's something incredibly comforting to me as an extrovert about having other people around me, even if I am not talking at them incessantly.
Sidenote: To my wonderful former co-workers, thank you for letting me talk "at" you for hours on end. You made my workday so much better. You all deserve a special place in Heaven for your listening skills and patience.
2. Find some friends
One of the reasons I even considered the madness of breaking off on my own and working from home came from the encouragement of a good friend (and incredibly talented interior designer) who also works from home who reminded me that although I would have much more alone time when working, I would also have the time to actually meet with my clients face-to-face and gasp! actually have time to see my friends again. And it's true! I LOVE client meetings. Thank you to my clients for 1. being good people who I love to be around 2. allowing me to use you to fill my people time void. I love getting to know my clients on a more personal level. Thank you for letting me into your lives.
Beyond my clients and my friends, the most important relationships you can forge are those with other creatives. They can encourage you, critique you, and sometimes, even help you get some new work. They get what you're going through because they are in it, too. My childhood friend, Christen Allocco is a really talented designer and letterer. Though she lives in Virginia, we remain tied together by the bond of creative friendship. We text one another screenshots of work for critique. We help each other when we get stuck. We play the "what should I charge for this?" game. Her friendship has become an invaluable resource and support as we navigate the freelance world together.
Get connected to other creatives you don't know, too! I've also found support from creatives I never met before through The Rising Tide Society. This group is all about "community over competition." The name comes from the saying that "a rising tide lifts all boats." There is a closed Facebook group that creatives can join and seek support and advice. It is wonderful! We are stronger together than we are apart. Don't be afraid to seek support from other creatives .
3. Get a pet
Seriously. Go adopt a pet. You may think you are saving them, but they are really saving you. I don't know if I would still be sane without my cats, Frodo & Sam (short for Samantha). (Yes, my husband and I are Lord of the Rings fans.) They are practically my co-workers. Yes, I do talk to them. You fellow extroverts can start working from home first before you judge me. They are the warm body in the room that makes me feel at ease. They are the thing that I take care of that remind me to take care of myself. They provide amusement and are great at snuggle breaks. Need I say more? Go adopt. If you live local to me, go check out the Monmouth County SPCA. If you don't, go find your SPCA! Furry co-workers rule.
4. Wear what you need to wear
I am currently writing to you in ridiculously comfortable workout clothes, but some days you may find me dressed to the nines. Some days I need to dress professionally, not just for client meetings, but for my mental state. Some days the professional dress puts me in the right frame of mind. Some days the comfort of sweats puts me in the right frame of mind. I started out always dressed professionally because it helped ease my transition from the office, and I thought I would always stick with that. It changes sometimes. It's okay to wear sweats on a rainy Monday. Wear what makes you work best and be open to that changing regularly.
5. Get out of the house
Having control over my schedule and personal time was life-transforming. When I first began job-searching after graduating college, I was in love with the idea of the 9-5 life. I liked the schedule and consistency. The idea of the inconsistency of freelance working scared me. I was blind to the opportunities it would allow me. I love that I can make my work work with the rest of my life. I love being able to take breaks and do things during the 9-5 hours. I can build my schedule around the other things in life that are important to me. Sometimes it means starting working at the crack of dawn or late at night or a little over the weekend, but that's okay! I had so missed my afternoon runs in college and feared I would never do that during a weekday again. Guess what—getting a weekday run in on this beautiful spring day later this afternoon. And tonight, I'm going to grab dinner with some good friends…on a weeknight!
But seriously, to avoid becoming a Gollum-like creature, make a rule of getting out of the house at least once a day—be it for an errand, a workout, a coffee date, or time with friends. You can even take your laptop or sketchbook and go work at a coffee shop…or the beach. You are an extrovert. You were made to be around people. Go be around people. Make the time for it.
6. Make your workspace somewhere you want to work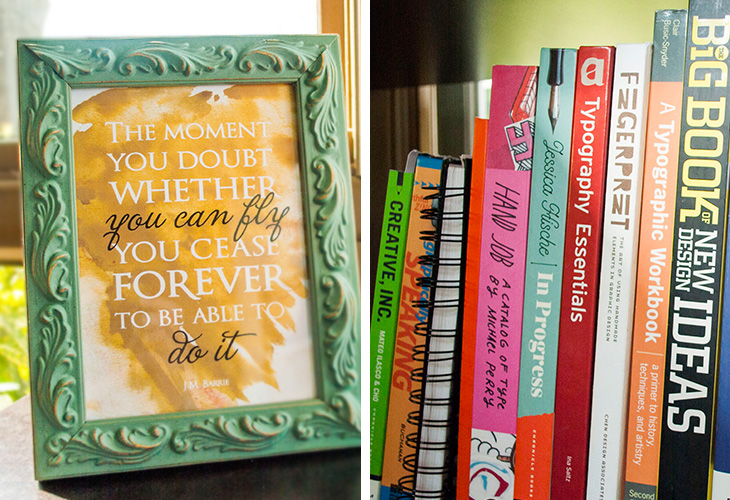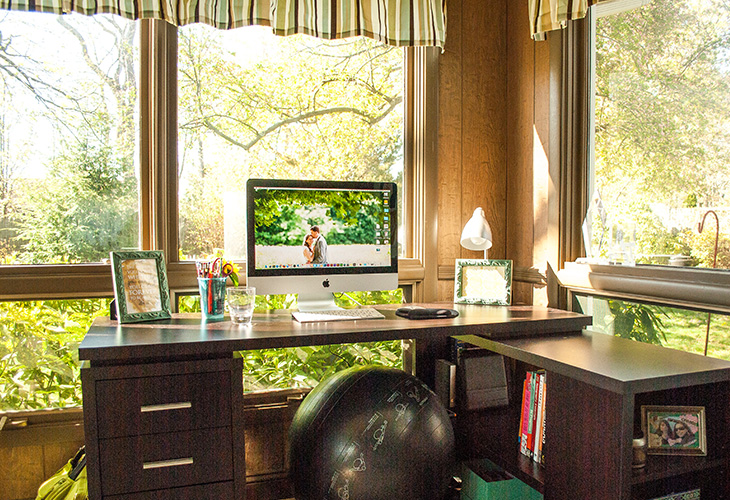 If you're going to spend a lot of time at home, make it a place you want to work. Get yourself a desk you don't mind sitting at often. Find your best working situation. I personally rock the exercise ball as a chair. It helps me keep better posture and lets me bounce out my extra energy. Surround yourself with things that inspire you—pictures, inspirational sayings; etc. A quote that I came across the first day of full-time freelancing which reminds me to never doubt sits on my desk in plain sight every day. A cup designed by my friend is my pen cup and reminds me to call her when I need support. My favorite design books and sketchbook are right in my desk shelf. Make it your own.
I have an incredibly supportive husband who insisted on rearranging some rooms in our house so I could have a better workspace. I'm so thankful he made me do that. I was in a dark tiny corner of the house. Now I have lots of windows and a lovely view of our backyard. I just upgraded from a tiny desk to a lovely L-shaped desk with plenty of space and storage. I can't wait to start my workday now. 
7. Netflix is your friend…sometimes
Netflix can be your greatest friend or foe in productivity. Some days when I am hooked on a funny show, it encourages me to work and listen along. It helps me in the war against loneliness. The characters are like my co-workers and I am listening to their stories of their crazy weekend. Some days I find it slow me down and distract me. Have discipline. Know yourself and know if it is a Netflix day or if it is not. 
8. Make yourself a great Pandora station
On days when it is not a Netflix day, Pandora can be an amazing companion. I have carefully crafted a couple Pandora stations to perfection. I hardly need to skip or thumbs down songs anymore. One benefit of working at home is the ability to rock out and belt out your favorite songs. Can't do that at the office!
9. Don't be terrified if you love it
Here I am seven months in and I LOVE working from home. I'll admit that working from home has changed me a little bit. This extrovert has learned that silence isn't the enemy. I've come to appreciate a degree of seclusion. I've found my productivity increase and my creative juices flow freely when I actually have some time alone. If this happens to you, don't worry—you're still an extrovert! You haven't lost a part of yourself—you've evolved into a more well-rounded extrovert. You've unlocked a part of yourself you didn't know was within you. Congrats, and welcome to the "Extroverts Who Work from Home" Club. There will still be hard days, but, fear not! You are not alone.