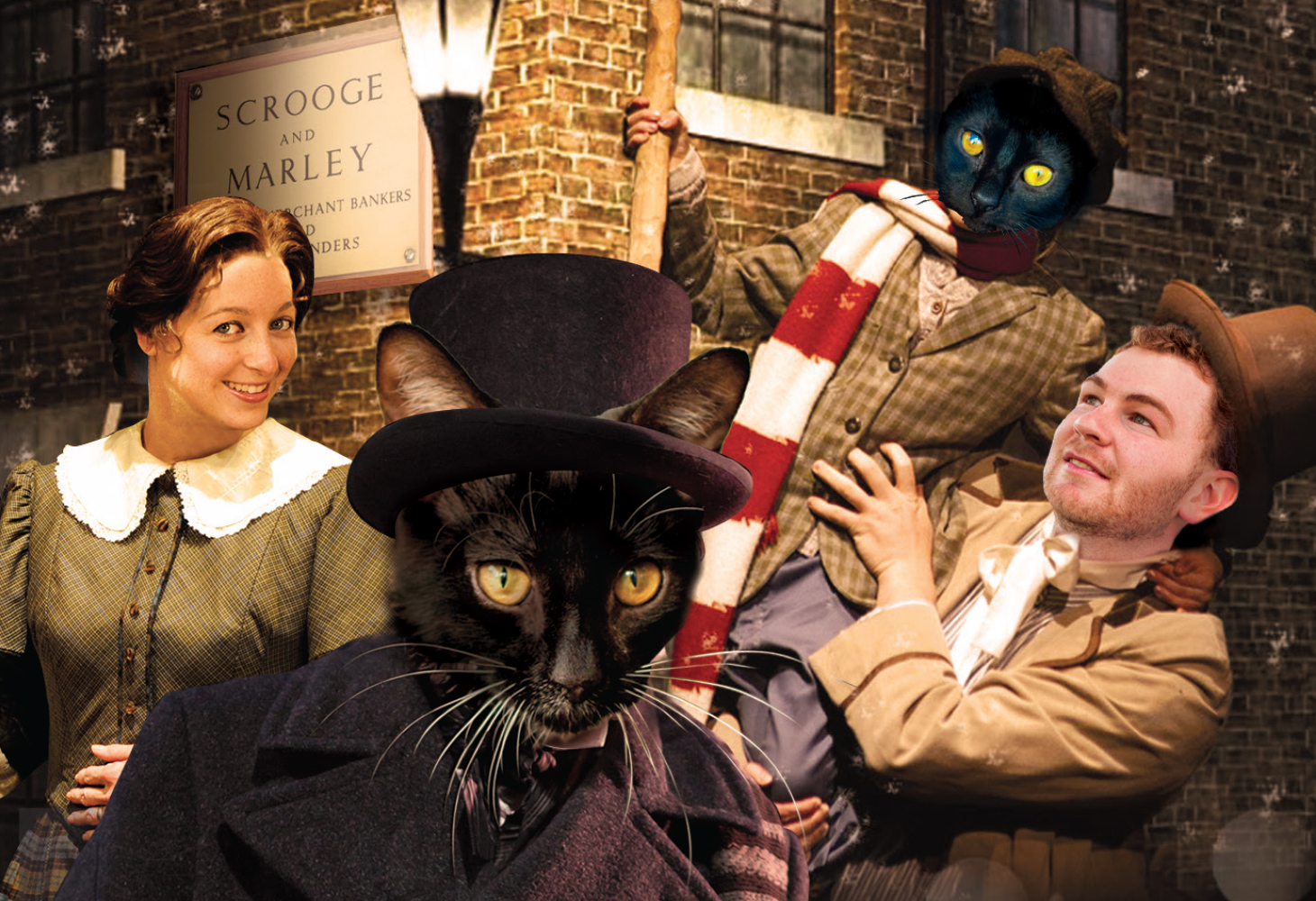 A Classic with a Feline Twist
One of the Karl family Christmas traditions is for me to create a ridiculous Photoshopped card of my husband and our two cats. Another older Karl tradition that predates my being a Karl is the tradition of going to the McCarter Theatre in Princeton to see their production of Dicken's "A Christmas Carol." Every year the Karl family would trek an hour to see the show and go out for dinner. About a decade ago I started tagging along with them. We're hoping to restart the tradition as soon as our niece and nephew are old enough to appreciate the show and not be terrified of Marley and the Ghost of Christmas Future. (I'm not too worried—these kids have watched "Jurassic Park" at our house and didn't even bat an eye at the raptor kitchen scene.)
In place of that tradition, my husband and I filled the Christmas Carol shaped hole in our hearts by watching all the best movie versions of "A Christmas Carol" (the 1951 version, the Muppet version, and "Scrooged") throughout December. We were inspired to pay tribute to this tradition in our card and tell the story of our miserly introverted cat Mr Frodo as "Frodoneezer Scrooge". Hope you enjoy… and God bless you, every one!
Here's the text on the back if it appears too small for you to read on screen:
"Bah, Humbug!," hissed Frodoneezer Scrooge as Pat Karl asked for Christmas Day off to spend with his beloved wife Corinne and his precious cat Tiny Sam. As Pat sighed and left, Frodoneezer sat counting his squeaky mice.
Frodoneezer Scrooge had a hardened heart. That night he was visited by the ghost of his old business partner. He defended his hoarding of all the squeaky mice to his partner claiming that he was such a good businessman. His partner replied, "Meowkind was my business. The common welfare was my business; charity, mercy, forbearance, benevolence, were all my business. The dealings of my trade were but a drop of water in the comprehensive ocean of my business!"
Three more ghosts visitied Frodoneezer that night. They encouraged Frodoneezer to put his claws away and reminded him of the true meaning of Christmas. He awoke on Christmas morning thrilled that it was not too late to change his ways. He stroked his white whiskers and thought. Suddenly he sprung out of bed and went out seeking Pat, Corinne, and Tiny Sam. He came bearing all his squeaky mice. He apologized for his selfishness and extended a paw to Tiny Sam. Tiny Sam purred in response, perched upon his shoulder and proclaimed, "Meowy Christmas and God bless us, every one!"
"Do not conform to the pattern of this world, but be transformed by the renewing of your mind. Then you will be able to test and approve what God's will is—his good, pleasing & perfect will."
—Romans 12:2
Meowy Christmas!
Love,
Pat, Corinne, Frodo, & Tiny Sam
PS- And here are the Karl Christmas cards of past and present. If you want to see the card of Christmas future, you'll have to hang in there another year 🙂